Teen of the Month
Look for more information to come September 2019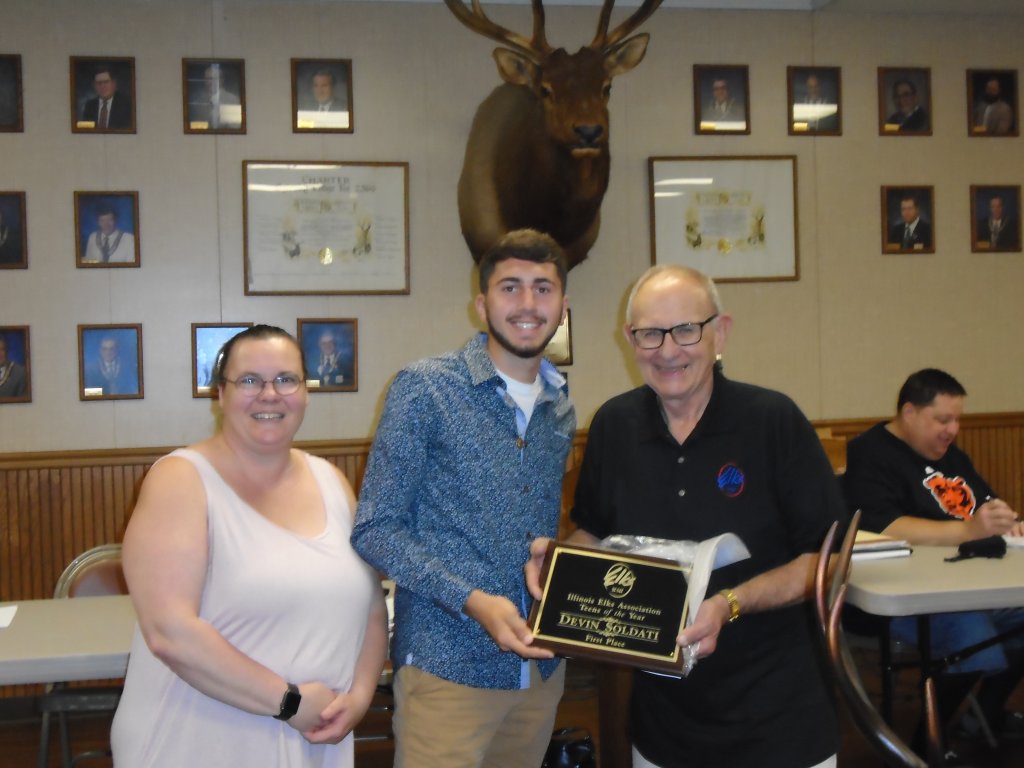 Teen of the Year Illinois Elks Association 2019 Winner was sponsored by our Oglesby Lodge!
Lisa Fultz, Teen of the Month Lodge Chair, is shown with Exulted Ruler Ken Ficek presenting a plaque to Devin Soldati. Devin is a graduate of Hall High School. Devin who is sponsored by our Oglesby Lodge was selected as Teen of the Year by the Illinois Elks Association. Devin was also valedictorian of his high school class as well as achieving Illinois State honors in track. Devin received a check for $1000 for being selected as Teen of the Year.
Teen of the Month 2019 - 2020 School Year
Check for monthly updates.
Oglesby Elks Announces September Teens of the Month
The Oglesby Elks announce their September Teens of the Month, Macy Bosnich and Samuel Maschmann.
Macy, a senior at St. Bede Academy, is the daughter of Melissa and Alan Bosnich of DePue. Macy is currently 1st in her class and has been active in basketball, volleyball, student council, and Lectio Divina all 4 years. She is an Illinois State Scholar and has been on the honor roll all 4yrs.
Macy is the Vice-President of Student Council. As a senior she was also the co-captain of her basketball and volleyball teams. As a junior, Macy was the InterAct Club President. She is currently the Co-President of the Heritage Club.
She was in the Spanish Club as a freshman and sophomore and the Foreign Language Club her junior and senior years. She assisted on the Yearbook Staff as a sophomore and junior. Macy has been an Ambassador for her school since her junior year. She is currently on the Prom Committee. Macy also played softball her freshman year and then was on the track team her sophomore and junior years. She also enjoyed Chorus as a freshman.
Macy was awarded the Citizenship Award as a freshman, sophomore and junior. She received the English award her freshman and junior year. As a sophomore and junior she was given the Chemistry Award. Macy was also given the AP History Award her junior year. She was All-Conference Academic for basketball as a sophomore and junior and as a junior for volleyball. Macy was Most Improved in track her junior year and basketball her sophomore year. For Volleyball, she received the News Tribune All Area Third Team as a junior, Bureau County Republican Second Team her sophomore year, and Best defensive player and Most Digs her junior year. Macy also competed in the World Youth in Science and Engineering where as a junior she placed 1st in Computer Science and 3rd in Chemistry. At sectionals she place 2nd in Computer Science.
Macy volunteers in the community as well. She has helped at the DePue's Men's Club food stand during the DePue boat races he freshman, sophomore and junior year. She helped at the 5K race during the boat races all 4 years of high school. As a junior she helped at the Hall Township Food Pantry. She went with other St, Bede students to Kentucky on a mission trip her junior year. During her first 3 years, Macy has also helped with St. Bede's Annual Action, basketball camp and volleyball camp.
Macy plans to attend a university and major in neuroscience and then attend medical school to become a doctor.
Samuel Maschmann, a senior at St. Bede Academy, is the son of Scott and Jennifer Maschmann of Peru. Samuel is currently 3rd in his class and is an Illinois Scholar. He has also been busy with football, Scholastic Bowl and the Bass Fishing Club all 4 years. He has also been on the honor roll his freshman through junior years.
Samuel has been active in wrestling his sophomore through senior year. He was in choir as a freshman. Samuel was in the Venturing Club during his freshman and sophomore years and then a Student Ambassador his junior and senior years.
He has been the Co-Captain of the Scholastic Bowl team these last 2 years and his team has won the regional championship all 4 years. Samuel received the Math Award his freshman and junior years. As a sophomore he was given the Spanish and World History Awards. His Bass Fishing club has competed in the regional championship. As a junior and senior Samuel competed on the WYSE team and won 3rd place in English individually while the team won the Team Championship in the regionals and sectionals.
Samuel has volunteered to help at the Youth football camp all 4 years. He was also a counselor at the Echo Bluffs camp his freshman and sophomore years.
After high school, Samuel plans to attend a 4 year university to study computer science and engineering. After college he would like to find a job as a software engineer.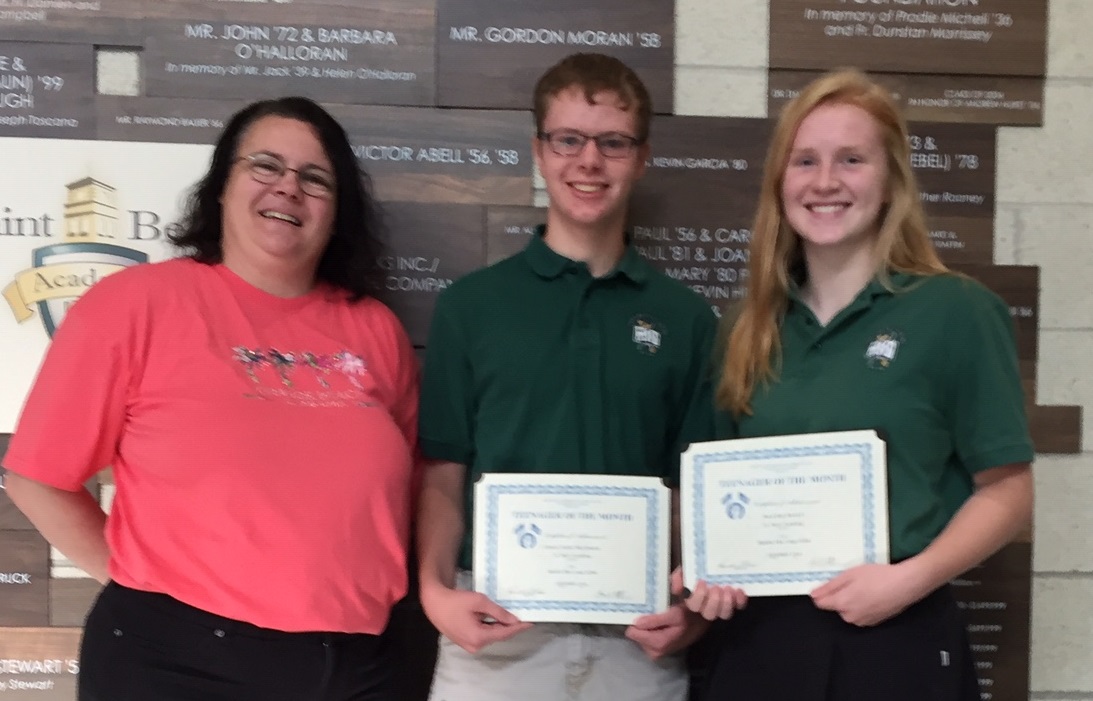 Pictured Left to Right
Oglesby Elks Teen of the Month Chair Lisa Fultz
St Bede Student Samual Maschmann
St Bede Student Macy Bosnich